Demag Plastics Machinery (Ningbo) Co., Ltd, a wholly-owned subsidiary of Sumitomo SHI Demag Germany, will present its innovative, highly efficient, precision-focused, data driven integrated machine line-up at CHINAPLAS 2021. The portfolio signifies the global industry advantages and the latest technological achievements that Demag has developed in the fields of medical, packaging, automotive, and 3C.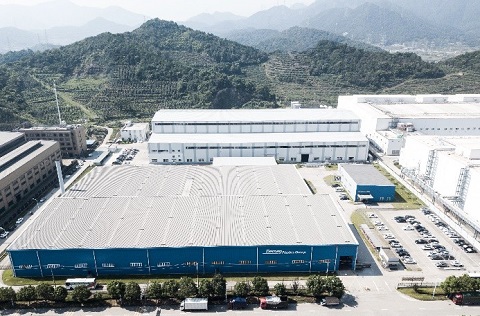 Demag Ningbo plant.
Demag at CHINAPLAS features its clean, safe and dynamic medical injection molding machine that meets current industry demand. The LSR matrix lamp solution showcases advanced European manufacturing technology. The double-color cube mold technology is a better reflection of cutting-edge precision and reliability.
In addition, a demonstration of direct-drive all-electric high-speed injection of 5G mobile phone back cover and "zero clamping force" application technology will be there.
Double-color rotary mold technology: Systec C Cube
Demag will present the rotation mold technology and 4*12 double-color cap molding technology on a customized Systec120 machine. Double-color rotary mold technology is a very efficient mold technology. Although the mold cost is relatively high, but with the aid of auxiliary cooling and ejection of the products outside the mold, the output efficiency can be increased by 30-40%.
The unit also provides multi- station simultaneous injection molding, which significantly enhances the molding efficiency. Further, combined with the design that allows for high cavity number, the application potential is large for the molding of disposable packaging and medical products.
Therefore, the widespread use of various mold rotation technologies in multi-color and multi-material molding and through the standardization of rotating devices, further simplifies the mold structure, reduces mold costs and achieves professional and efficient production.
LSR turnkey: IntElect S
Demag will also demonstrate its technical LSR know-how and the process of molding light guides for matrix light at the trade fair on a special IntElect 130.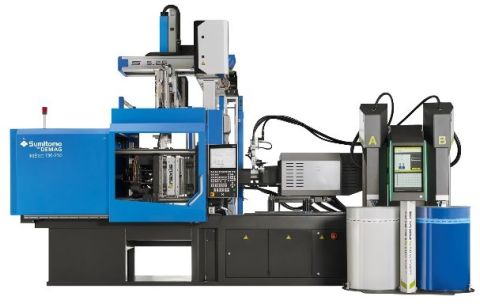 The LSR matrix lamp solution.
The latest IntElect systems achieve high precise shot control with the low-viscosity material. Units feature a specially designed screw, ranging from 14mm to 45mm, a modified plasticizing unit, a shut off nozzle specifically designed for LSR, and a spring loaded non-return valve to achieve high processing consistency.
"Safe and clean" for medical products: Systec C MED
Moreover, as a key production injection molding machine for medical products manufacturing, Systec C MED can actively create and implement designs to meet the basic typical GMP requirements, or even other non-essential GMP requirements.
The whole machine's color is white, which is ideal for quick and easy cleaning. It has an expanded base height of 100mm, in support of the "easy clean" design. The movable plate production area is covered with stainless steel, including integrated media supply cabinet beside mold area. The special layout is intended for fast cleaning and easy maintenance.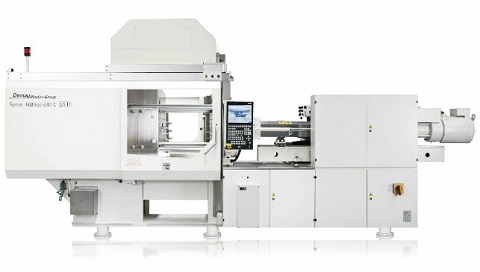 The clean, safe and highly dynamic medical injection molding machine.
The machine's basic features include increased mold thickness, higher molarity weight, and more powerful ejection force. Overall, the machine highlights the "safe and clean" characteristics that are required in the field of medical products.
Direct drive high-speed all-electric injection molding: SEEV-A-SH
In addition, SE180EV-A-SHR showcases the cost-efficient compression molding of 5G frame thin wall products and IOT/M2M solutions. The maximum injection speed of SE180EV-A-SHR C560 has been increased from 800mm/s to 1000mm/s.
Low-pressure filling can be realized in a short time, which is not only suitable for thin-wall forming, but also reduces sprue edge, deformation, warpage and other problems. The IOT/M2M solution can accurately and quickly start production and reduce hours, while monitoring the quality through various sensors.
Even with low clamping force molding in PPS, damage to mold parts is eliminated due to the full play of the exhaust function, thereby reducing gas scorching and adhesion problems.